Oh my gosh, just one more hour to go and the blogathon officially ends! I gotta get my act together and catch up.
Looks like there are some new pledges made too. A big thank you to all!
Well, my topic for this entry is grooming and the tools to use for clipping nails. Some owners are rather afraid of hurting their pets especially during the clipping of the nails, as some rabbits refuse to trance and may kick violently and suddenly when held in a way they don't like.
But you certainly won't want to wait til your rabbit's nails look like these!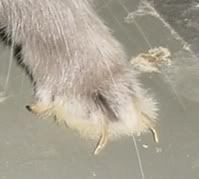 Actually, grooming your rabbits regularly can be a form of bonding with your bunnies, as they grow accustom to the handling. You can use the opportunity to gentle massage your rabbit. I know for my bunnies, they absolutely adore the treats that follow each grooming session (for being good of course!) and would grind their teeth softly in glee at the massages and strokes. In fact, I find it therapeutic to pet my bunnies and with every stroke, my worries melt away.
So here are simple steps on how to trim the nails of your rabbits. When in doubt, ask a fellow rabbit owner to do a demonstration for you or a trip to the vet can help answer your queries too.
Trimming Nails
To assure your bunny stays in good health you will need to clip their nails. This can be a frustrating job at first, but with patience and practice it will become an easy part of your care routine.
Rabbits need to have their nails clipped short for your protection and theirs. Long nails can leave nasty scratches on owners arms. Rabbits with long nails can get them caught on furniture or wire cages and rip them clear out, causing pain for the bunny. A little routine maintenance can prevent these problems from happening in the first place. You're going to need :
Clippers. You can use something like in the picture below.

A long sleeve shirt and jeans to help prevent scratches.
Rabbits nails need to be cut about every three weeks on average. The first few times you clip the nails, you will probably want to have help available, since the rabbit will probably not be too happy about the clipping. Remember, rabbits are easily frightened of new things, but with patience they learn it doesn't hurt them, and become willing participants.
The most important thing to remember is that there is a vein that runs up the rabbit's nails. You will want to cut BELOW this vein for two reasons. First, the nail below the end of the vein has no nerve endings in it, and the rabbit will not feel you clip the nails. Secondly, if you cut into the vein, the rabbit's nail will bleed - sometimes quite heavily.
Look at the nail, and make sure you can see the vein. If you cannot see the vein, shine the light from the flashlight behind the nail. The nail will be more transparent, and the vein will appear darker. It should look like the picture above.
Sit in a chair with your bunny between your legs, tummy up, head toward your knees. If you put a bunnies head lower than the rest of the body you can put the bunny in what's known as "bunny trance". Be careful because the bunny can snap out of this trance at any time. With a bit of practice you can become good at "trancing bunnies" and it will make the job of nail cutting much easier.
Carefully place the nail clippers just below the vein, and clip firmly. Now repeat the process for the remaining nails. If you cut too high, and the nail bleeds, use the styptic powder to stop the bleeding.
Add comment December 2nd, 2006