Rab-loggers
Angie
Betty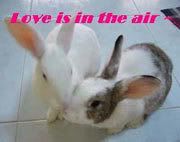 I'm a part-time slave to my 2 masters – Nova and Monty. Nova is a silly boy who does silly things but that's what makes him so adorable. Monty is the cunning girl who always has this look that she is plotting on how to take over the world *Think Pinky & the Brain*.
I love them both very much and life wouldn't be more fun and interesting without them. Bunnies rule!
Charmaine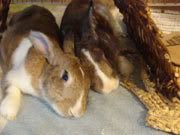 I'm currently a 2nd year student in Republic Polytechnic studying Biotechnology. I've been fostering for HRSS since 2004. I currently have 5 rabbits in my home. Woody and Landy (whom we adopted), Sofi, Ink and Bitbit (who're up for adoption still). I'm also helping out with the Fostering & Rescue department of HRSS.
I feel happiest when a foster rabbit in my care finds a good home.
Daphne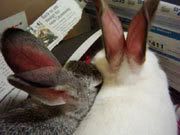 Before the critters came along, I'd waste away time alone at home in front of the telly or the computer. Rabbits saved me from a mundane and ignorant life without meaning! Being a parent/grandparent of 7 wonderful bunnies (our fur grandkids came to us one day short of an April Fool's joke) named Candy, Dazzle, Shayne, Heffalump, Mr Blacks, Thumpy and "Little Ears" Xavier provides us with a new experience every day.
Bugs and Thumpy, our first two rabbits (with the help of Little July and Angie), inspired me to spread our love of lagomorphs by helping out with the HRSS.
As they, like other loveable foster rabbits in HRSS, are the results of pet abandonment.
Joanna
Joanna is essentially trademarked by "bitbit" or "bitbitster". She started appreciating the company of rabbits since August 2002 when she acquired Bitbit and Maomao (then family additions Socks and Dash; Topaz and Eveie were adopted out) and joined the House Rabbit Society, Singapore as a volunteer shortly after. Ever since, she has participated in various HRSS events and activities, and integrated into the Executive Committee as an active member.
Her highest record is 7 rabbits: 6 being her own and 1 foster rabbit, Stitch, who has since found a forever home. Yeah!
Sanz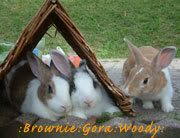 Apart from being Sanz, I have been roleplaying as a maid to six erratic and constantly famished rabbits for 5 years. They have been a boundless source of amusement and laughter in my life. I adore seeing them go bonkers for their treats; yes I do have a sadistic side!
In my free time, I like to gather them for a talk except I do the talking the whole time?
Wee Heng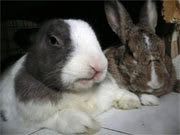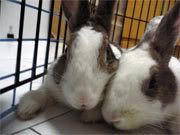 Hi! I am a proud owner of 4 rabbits; Gracie, Oliver, Baby and Crème. I adopted 3 of them from the HRSS and have since been an active volunteer with the HRSS since 2 years ago. The four of them have amused me with their antics everyday, making me laugh at the silly things that they do. I call them my 'masked-keteers' as coincidentally, the 4 of them look like they are wearing masks!
They have taught me what it means to love unconditionally and how to be responsible for another being. Life has never been the same without them.
Although Crème went through a difficult time the last 2 months, she has since triumphed over her illness and has recovered. It has been a worrying two months for my family and me. I hope to share with you more about her abscess problem so that other fellow rabbit owners can benefit from it!